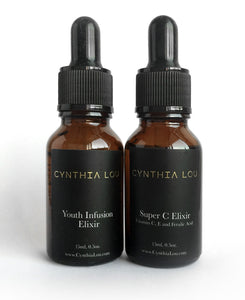 Both of our top selling, highly concentrated, fresh artisanal serums together in one package.
Great as a gift, as your Serum Starter kit, or to replenish your personal supplies. Never run out with the Serums Super Pack!
This set includes:
* Super C Elixir (15ml / 1/2 oz.)
* Youth Infusion Elixir (15ml / 1/2 oz.)
---
How to Use:
Youth Infusion:
* Apply a few drops on freshly cleansed skin, morning and night.
Super C Elixir:
* Use nightly, after Youth Infusion * Can be used morning and night, after Youth Infusion, if sunscreen is used during the day.
---
Youth Infusion Elixir Ingredients:
Organic Aloe Barbadensis Juice, Organic Matricaria Recutita (German Chamomile) Distillate, Acetyl Hexapeptide-51 Amide, Niacinamide, Camellia sinensis (White Tea) extract, Lactobacillus/Nereocystis Luetkeana Ferment Filtrate (Sea Kelp Bioferment), Leuconostoc/Radish Root Ferment Filtrate
Super C Elixir Ingredients:
Water, L-Ascorbic Acid, Ethoxydiglycol, Glycerin, Propylene Glycol, Laureth-23, Tocopherol, Ferulic Acid, Panthenol, Sodium Hyaluronate, Triethanolamine, Phenoxyethanol
No More Senior Dryness!
Amazing, In just few weeks after starting the Youth Infusion Elixir my skin feels like it did twenty years ago. I'm still in the habit of checking the corners of my nose for flakes, but there are never any there!
Amazing!!!
First time using these serum, and I'm just very impressed how my skin feels!
The starter regime is a perfect link to start my day and end my evening
As I am getting older and living in a sunny location, I noticed my skin getting dull and saggy. I also noticed more sun spots than I was used to. Being unaccustomed to a good skin care regime which included daily care and attention, I would often leave the house without thinking about what was on my face except my simple makeup. My night routine was a simple wash and sometimes some product but not a daily regime, Not a conscious daily routine. Watching Cynthia Lou's video's tutorials and her personal regime makes me want to honor my skin routine and do it as a daily self-care practice. Looking at the before and after after using Cynthia Lou Skincare made it evident that I was not using the correct products. Her starter regime is a perfect link to what needs to happen to start my day and end my evening. If I hadn't found her products and met her and heard her story, I don't think I would have ever seen that my aging skin had remedies and that there were things that I could proactively do to change my skin and feel better about myself.
My delicate skin LOVES this product
After years of struggling with rosacea and sebhorreic dermatitis, my skin had finally cleared of most symptoms thanks to me cleaning up my diet. But my skin just would not lose that last bit of redness and skin damage no matter what type of product I tried (both super market products and higher end natural foods market products). Just one month with Cynthia Lou's Youth Elixir serum and my skin is noticeably less red and is gently healing. You have one happy customer in me <3